Outline of Service
Location of Boute Hiyoshi Chez Moi
1-24-11 Hiyoshihoncho Kouhokuku Yokohama 223-0062 Japan
2 min walk ,100 m from Hiyoshi Station of Tokyu Toyoko Line (Access Map)
Period of stay
More than one month is requested.Per day base calculation is applied over one month.
Check-out date is to be informend in one month advance.
However,cancellation is possible by paying one month rent.
However over 2 weeks can be possible by paying 4000yen/day.
Charges
Long stay discount:3%(3M-12M),6%(over 12M)
Per day charge is calculated based on monthly rent/30. Additional one person is 5,000Yen/M.
Utility expense:

300yen/day,9,000yen/M

Internet charge:

Free

Cleaning fee:

10,000Yen(below 3M), 20TYen(over 3M-12M), 30TYen(over12M)
Payment
Room Charge is advance payment. Others are at end of one month.
Cancel
Cancel charge will occur according to timing of cancel. Before one week is No charge.
From one week to one day before is half month rent. Checkin day is one month rent.
Structure of Building
Iron frame ALC Construction,Basement 1 floor,Terrestrial 5 floor,One Room 31
Common facilities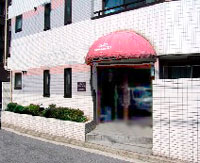 Entrance
Entrance Autorock,Elevator(up to 4F),Coin Laundry,Takuhai-box
Room facilities
Unit bath, Mini-kitchen with refrigerator, Air conditioner, TV with DVD, Washlet toilet, PX-LAN, Digital ten key, Closet, Book shelf, Glass table, Table & chair, Bed, Bedclothes, Interphone with monitor, Microwave, Rice cooker, Kettle, Cook pot, Frying pan,Tableware, small articles.
Internet
Easy connection to LAN, 100Mbps VDSL connection, your computer can connect, width 10BASE-T cable.
Living Enviroment
Hishoshi Campus of Keio University, High school of Nihon University,Tokyu Departmentstore, APITA Shopping Center,many convenient store, Mizuho bank,MitsubishitokyoUFJ bank,MitsuiSmitomo Bank, Yokohama bank,Suruga bank,Post office

To Top